~ Published Poems ~

..
I'm going to share with you my poems that where published & the poem that will be in the Coffee table book, for later release this year in London, pretty Cool huh"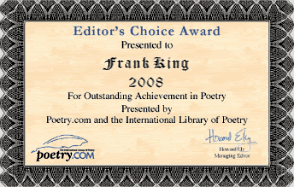 © All Poems you are about to read, are © and already published, Enjoy. link below to vote on my poem "MOTHER"
‡ "IN LOVING MEMORY OF REVEREND HENRY L. KING "



As he walks through the pearly gates,
And walks on streets of gold,
He looks up disciples, apostles,
Family and friends of old.
The sights the sounds that he must see!
And what a sight to behold!
He's in the place ,he supposed to be,
He is home and finally set free.
No tube no pains and no gray hair,
He's walking and talking now !!
He is up there in heaven wearing his golden crown.
I love you dad and now you know,
I'll meet you there when it's my time to go.
---
† "MOTHER" †
You are my Mother,My rock and my friend
The only person I turn to when I need myself to catch up to my soul,
The only person that make's me feel whole.
I just want to hold you,
Touch you and tell you what you mean to me,
Everything you are I'am,
You live on in me.
I Love you Mom,
As you always knew,
Now that you are with thee.
I Love you so much and miss you even more,
I owe you my life and the Lord my soul.
All the memories I will cherish forever more.

♥ forever ♥





---




† IN LOVING MEMORY OF MOM, DAD, KENNY †
As I swim in my tears of sadness and joy
....I remember the times when I was a boy,
As my loved ones I lost along the way
I reflect on the times of yesterday.
As my soul is batterd and bruised,
I find comfort in my silent solitue,
As I learn to live my life again
I will tear,joy and reflect
again,again and again,
As the Lord is with me night and day,
He will comfort me,guide me and show me the way,
I really believe I'm going to be "OK"


These are the only too Art piece's I did!! during the writting of these poems, "Jesus" ( colored pecil's) "My Watchfull Angel" (Graphic design stuff)
Here's a game to play, after all that heavey stuff!!! this is a really fun game!!

This is the "What's the Differance" game, in chinese. what too thing's are not a like.

"Whatsoever thy hand findeth to do, do it with thy might"





Support KROWN PRODUCTIONS!
Copy & Paste The Code On Your Page





Support Frank King!
Copy & Paste The Code On Your Page