"Just suck it up Lebron"
Mon Feb. 22, 2016
'This is your worst nightmare'
The motive in the Kalamazoo shootings remains unclear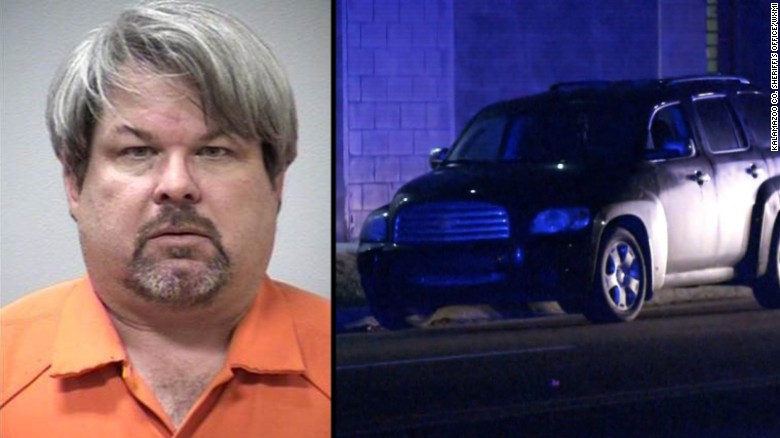 (CNN)For seven hours, the shooter drove from one target to another, police said, gunning down victims at random.
And in between the shootings, he apparently picked up passengers for Uber.
As families mourn the deaths of six people in Kalamazoo County, Michigan, one question looms above all else: Why did the gunman do this?
Here's what we know and don't know about the attacks:
The shootings
What we know:
The gunman shot eight people in three different parts of the county Saturday evening, authorities said.
Around 5:42 p.m., he shot a woman in front of her children at an apartment complex parking lot, prosecutor Jeffrey Getting said. The woman was struck multiple times but is expected to survive.
Four hours later, the gunman killed a father and son at a car dealership, police said.
Minutes afterward, he drove to a Cracker Barrel restaurant and opened fire in the parking lot, killing four women and wounding a 14-year-old girl.
"These were very deliberate killings," Getting said. "This wasn't hurried in any way, shape or form."
What we don't know:
How the gunman chose the victims.
"There isn't a connection that we've been able to establish between any of the three victim groups with each other, any of the three victim groups with the defendant," Getting told CNN's "New Day" on Monday. "It just is, well, it was random, unprovoked violence."
Kalamazoo County Undersheriff Paul Matyas called it "your worst nightmare" in an interview with CNN affiliate WOOD-TV in Grand Rapids.
The seemingly random selection of victims makes the rampage even more difficult to cope with, said Kalamazoo Public Safety Chief Jeff Hadley.
"There is this sense of loss, anger (and) fear," he said. "On top of that, how do you tell the families of these victims that they were not targeted for any other reason than they were a target?"
The suspect
What we know:
Two hours after the final shooting, police found a suspect: Jason Brian Dalton, 45. He was arrested without incident in downtown Kalamazoo. Police also seized a weapon from his car.
Dalton was driving for Uber the night of the shootings and even picked up and dropped off passengers between attacks, a source with knowledge of the investigation told CNN.
Matt Mellen told CNN affiliate WWMT-TV he rode in Dalton's car just before the shootings started.
"We got about a mile from my house, and he got a telephone call. After that call, he started driving erratically, running stop signs," Mellen told the station.
Uber's chief security officer told CNN that Dalton passed a background check. Police also said Dalton did not have a criminal record.
"For all intents and purposes, he was your average Joe," the public safety chief said. "This was random."
Kalamazoo shooting suspect: Who is Jason Brian Dalton?
Dalton is expected in court Monday for arraignment. He will likely be charged with six counts of murder, two counts of assault with intent to commit murder and eight charges of using a firearm during the commission of a felony, Getting said.
The murder charges carry a maximum penalty of life in prison without parole, he said.
What we don't know:
Who that phone call was from when Dalton was driving Mellen, and whether the call may have played a role.
The victims
What we know:
Police have not released the name of the woman wounded in front of her children at the apartment complex.
Richard Smith, 53, and his son Tyler, 17, were looking at a vehicle at a car dealership when both were shot and killed, police said.
The four women killed at the Cracker Barrel parking lot were already in two vehicles when they were shot. Authorities identified them as Dorothy Brown, 74; Barbara Hawthorne, 68; Mary Lou Nye, 62; and Mary Jo Nye, 60.
A 14-year-old girl who was in the passenger seat of one of the vehicles was struck and is in "very, very critical condition," Hadley said.
What we don't know:
How many more victims might have been killed if police didn't catch the suspect.
"There is just no question more people would have died if (police) didn't find him when they did," Getting, the prosecutor, said.
The motive
What we know:
Police say they don't think the shootings were acts of terrorism.
Under federal law, "terrorism" refers to a violent or dangerous crime that appears to be intended to either (1) intimidate or coerce a civilian population; (2) influence government policy by intimidation or coercion; or (3) affect government conduct by mass destruction, assassination or kidnapping, constitutional lawyer Page Pate wrote.
"My best sense is that it was somebody who was having an issue at the time and for whatever reason they decided to do what they did," Kalamazoo County Sheriff Richard Fuller told CNN's "New Day" on Monday.
What we don't know:
Virtually everything else about the motive.
"That's always a difficult thing to try and figure out when you're dealing with these random acts of violence," Getting said Monday.
While Dalton was known to like guns, "there wasn't anything that would put him on the police's radar as someone who would be likely do to something like this," he said.
Some of those answers could be coming, however. Fuller told CNN on Monday that Dalton is cooperating with police investigating the shootings.
Fiji: Death toll from Cyclone Winston reaches 20 as full scope of disaster unfolds
(CNN)Workers scrambled to reach hard-hit outer islands in Fiji on Monday to fully assess the scope of the devastating cyclone that struck the Pacific Island nation over the weekend, killing at least 20 people.
Tropical Cyclone Winston, which lashed Fiji on Saturday night, is the most powerful storm on record in the Southern Hemisphere, authorities said.
The destruction was apparent wherever one looked: Giant uprooted trees resting upside down on roads. Houses with their tin roofs torn off. Residents packing up whatever belongings they could salvage from their destroyed homes.
"There are Fijians out there who are without water, without a roof over their heads, without food and without essential services," Prime Minister Frank Bainimarama said.
Compounding the challenge for relief workers are power outages, fallen phone lines and road blocks.
"Winston was a monster of a cyclone," Fiji resident Nazeem Kasim told CNN. "I have not experienced anything like this before in my life, nor has my 60-year-old father."
Monster storm
Winds reached 296 kilometers per hour (184 mph), the Joint Typhoon Warning Center reported.
Had it occurred in the Atlantic, Winston would have been a Category 5 hurricane, but because of hemispheric nomenclature, it's called a cyclone. (In the Northwest Pacific, it would be a typhoon; all three are the same weather phenomenon.)
Officials shuttered schools until next Monday, using the buildings as shelters for the hundreds the storm left homeless.
A curfew that the government had put in place was lifted Monday. Still, residents were asked to limit their movements as mush as possible.
Challenges await
Fiji, an archipelago collectively about the size of New Jersey, lies in the South Pacific Ocean some 1,800 miles from Australia's east coast.
Most of the nation's 900,000 residents live on one of two main islands: Viti Levu or Vanua Levu. But the nation is comprised of more than 100 inhabited islands.
"It is likely that smaller villages across Fiji will have suffered the most, given their infrastructures would be too weak to withstand the power of a category 5 cyclone," said Suva resident Alice Clements, a spokeswoman for UNICEF in the Pacific.
"Families may have lost their homes and crops, therefore leaving them without shelter, food and a livelihood."
Howling winds
Although not hit directly, the capital, Suva, endured damaging gale-force winds, heavy rain and power outages. Clements, who was in Suva when the storm struck, said the city experienced "destructive, howling winds, and the sound of rivets lifting from roofs a constant throughout the night."
Jaisal Patel posted a video from Suva of electrical power lines exploding one after another.
"We were without power from 7pm local time Saturday and just got power back an hour ago," Patel said Monday.
The nation is a popular tourist destination. Those who were in the country are safe, said Tourism Minister Faiyaz Siddiq Koya. Now that the main airport has reopened, the ministry will prioritize their departure if they want to leave.
Record setting
Winston's 184-mph winds smashed the previous record for a Southern Hemisphere cyclone. The old record of 178 mph was shared by Cyclone Zoe, which battered the Solomon Islands in 2002, and Cyclone Monica, which walloped Australia in 2006, according to Colorado State University hurricane expert Philip Klotzbach.
FINAL

CLE 115 - 92 OKC

Russ finds Adams barreling down the lane
KD with a sweet low crossover on Lebron
Lebron underhand lob to TT
"Just suck it up Lebron"
Westbrook blows by Dellavedova and hammers the rim with evil intent
DION
One of those days for Love
Lebron with an insane no look full court pass to Jefferson for the reverse dunk
FINAL

PHI 103 - 129 DAL

Classic Dirk brings up 29000
FINAL

LAL 115 - 126 CHI

The Kobe fans from Milan made it to Chicago
Kobe Bryant fistbumping Derrick Rose's son might be the cutest thing ever
Kobe Bryant and the Lakers face the Bulls on Sunday night and everyone is there to celebrate the Black Mamba's last matchup against Chicago—including little P.J. Rose, Derrick Rose's kid.

P.J. is already a basketball celebrity himself after stealing the show and becoming a meme (and a t-shirt).

Plus he already has great handles. Maybe it was Kobe who really wanted to meet P.J. Regardless, this meetup made for an adorable photo.
Pau Gasol made Kobe's last game in Chicago even more special with his player introduction
Pau Gasol may now be in Chicago but he still loves Los Angeles and more importantly, Kobe Bryant.
On Sunday before the Bulls took on the Lakers for one last time with Kobe Bryant, the team introductions didn't follow the typical script. Rather than having the PA announcer do his thing, Pau Gasol via recording had the honor of introducing Bryant to the fans at the United Center one last time. Gasol was an instrumental piece in two of the Lakers' NBA Championships alongside Bryant.
FINAL

NO 111 - 106 DET

Holy Smokes, Anthony Davis Just Had The Game Of The Season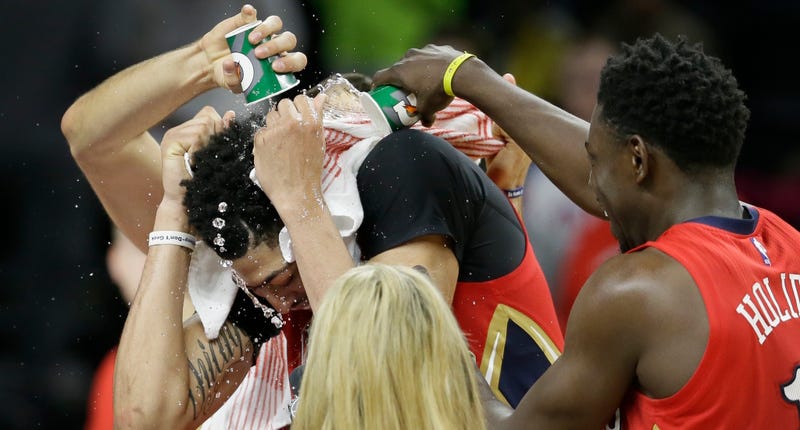 Thank God the Pistons kept today's game against the Pelicans close enough to force Anthony Davis to stay in until the end, because he put forth the best game anyone's had all NBA season. Young Brow dropped 59 points on 24-for-34 shooting and collected 20 rebounds in 43 minutes of work. That's the first 50-20 game…
because he put forth the best game anyone's had all NBA season. Young Brow dropped 59 points on 24-for-34 shooting and collected 20 rebounds in 43 minutes of work. That's the first 50-20 game since Chris Webber did it in 2001, and only the third such game in modern NBA history. He's also the youngest player to score 59 or more since 1963.

Okay, here, enough words, watch the destruction.
Towards the end of the game, the Pistons kept inexplicably doubling the pick-and-roll ball handler off of Davis, and he roasted a much slower Andre Drummond. When they'd double him, he'd pull up and swish heat check after heat check, including a three, an easy dunk, and this absurd shot that everyone in the arena, including his defender, knew he'd take:
It probably bears mentioning here that Anthony Davis stands to earn $23 million if he makes an All-NBA team and activates the Rose Rule bump in his contract. Today's obliteration of Detroit is probably just the start of a second-half reign of terror as Davis goes for that huge pile of coin. The Pelicans are bad and sort of pointless right now, but Davis has an incredible carrot in front of him, and it'll be entertaining as hell to watch him try to make up for a slow start to the season in New Orleans' last 27 games.
AD is youngest-ever to score 59, passing The Logo, David Thompson and Mike.
— NBA on ESPN (@ESPNNBA) February 22, 2016
FINAL
UTA 111 - 115 POR

Lillard Hits 4 3 Pointers In Row vs. Utah
Here's How Fox Deportes Announcers Called The Closest Daytona 500 Finish In History
Denny Hamlin beat out Martin Truex Jr. by inches in an incredible Daytona 500 finish that proved to be the closest margin in the race's history. Here's Fox Deportes announcers Tony Rivera and Luis Rodriguez making the most of this amazing moment and proving, once again, the best sports announcers in America work for…
Sad Dale Jr. Fan Is Sad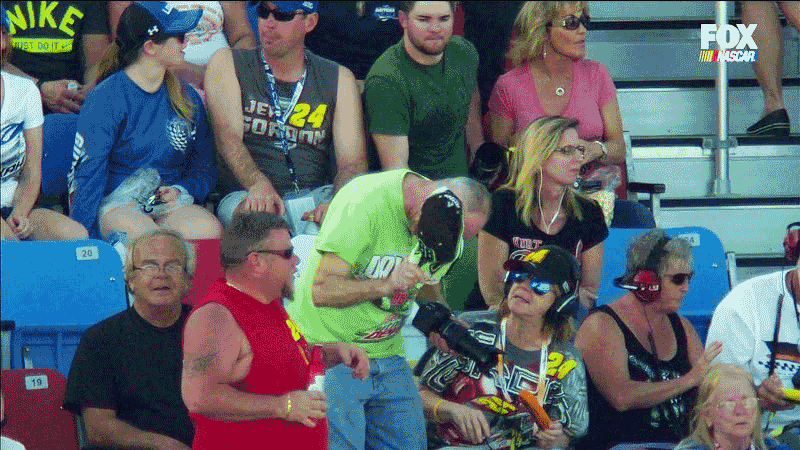 The photo finish at the Daytona 500 needs to be seen to be believed

The end of the Daytona 500 was simply breathtaking. For 199 laps there were almost no lead changes, until everything blew up on the final lap. Matt Kenseth led into the final lap, but lost control on the outside. This left Martin Truex Jr. and Denny Hamlin jockeying for position. The finish speaks for itself, with Hamlin winning by inches.
Just how close was it? Take a look at this:
Amazing as the iRacing Daytona 500 yesterday looked nearly identical at the finish, even with the car bump before the line. It was decided by an even closer 0.003 seconds.
Great Defense, Buddy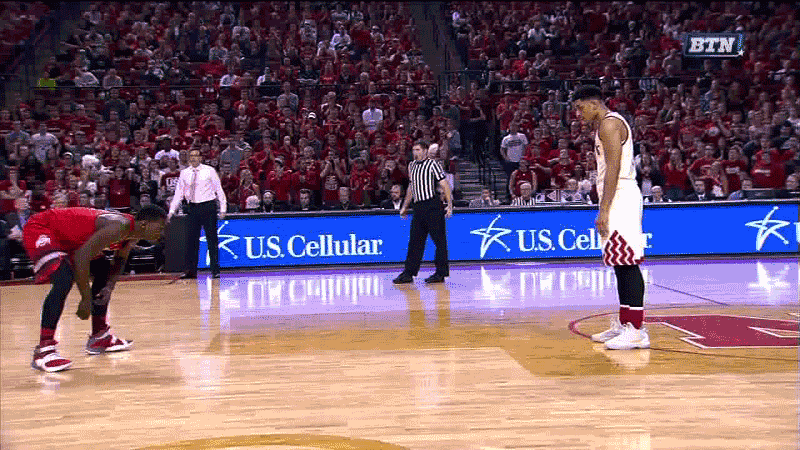 Everything You Need To Know About The Daytona 500 And The 2016 NASCAR Season
Alanis King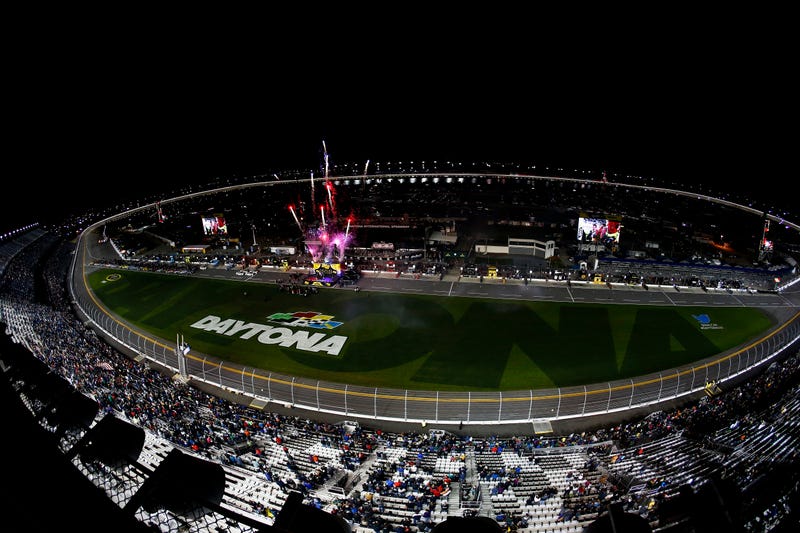 The Daytona 500 is upon us, and it's far from just another day that you should brush off as a "redneck Christmas." It's among the NASCAR Sprint Cup Series' biggest events, and arguably one of its best, which means that missing the race shouldn't be an option. Here's everything you need to know about it.








Let's hop on board with @KyleBusch during that last move #NASCARonNBCSN
LOOK: Richard Sherman goes yard at charity softball game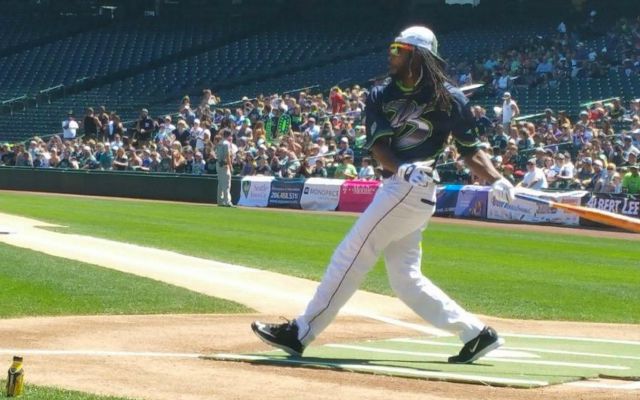 Richard Sherman's celebrity softball game was held on Sunday at Safeco Field in Seattle. Via Sherman's web site, here's a description of the event:
Blanket Coverage: The Richard Sherman Family Foundation is excited to present its 3rd Annual Charity Dinner and Auction. 100% of all net proceeds from this year's event will go directly to Blanket Coverage. With proceeds from last year's dinner and softball game, Blanket Coverage donated $62,500 in $2,500 incremental gifts, to 25 different nonprofits. Over the holidays we provided 25 Seattle-area families in need with gifts and a holiday experience for the whole family with several

Seahawks

players at the Seahawks facility. Finally we were able to provide hundreds of backpacks and school supplies to students in Washington state including many of the victims of the Carlton Complex fire in eastern Washington.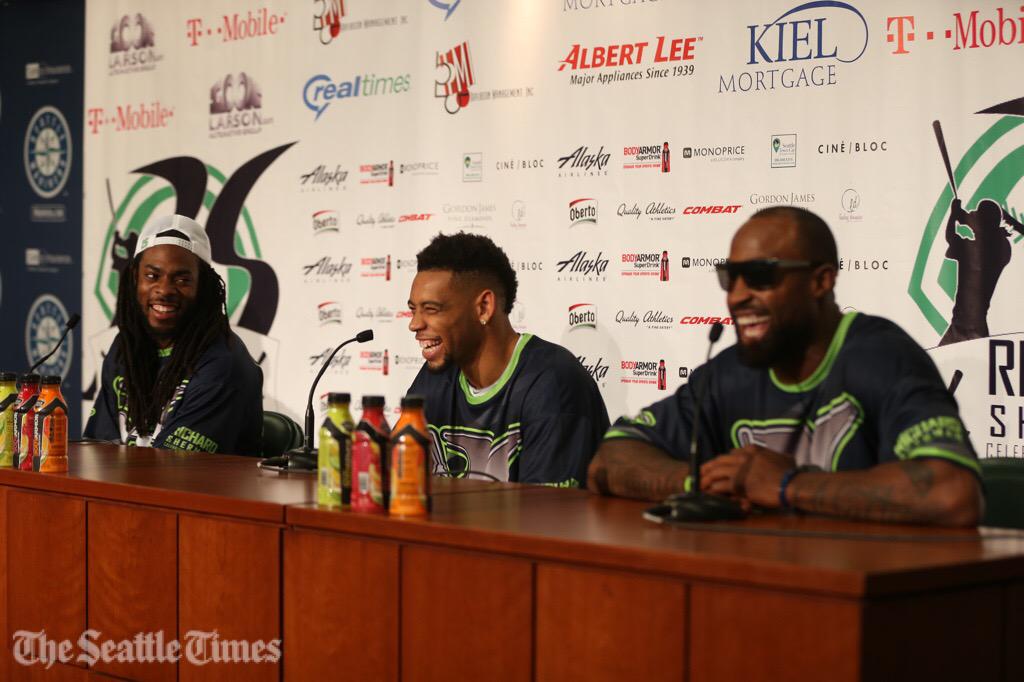 @RSherman_25, Joe Haden and @bbrowner27 joke about the size of Browner's Super Bowl rings before #RS25Softball
Is it any surprise that @DangeRussWilson won the #RS25Softball home-run derby? Here he gets props from @bbrowner27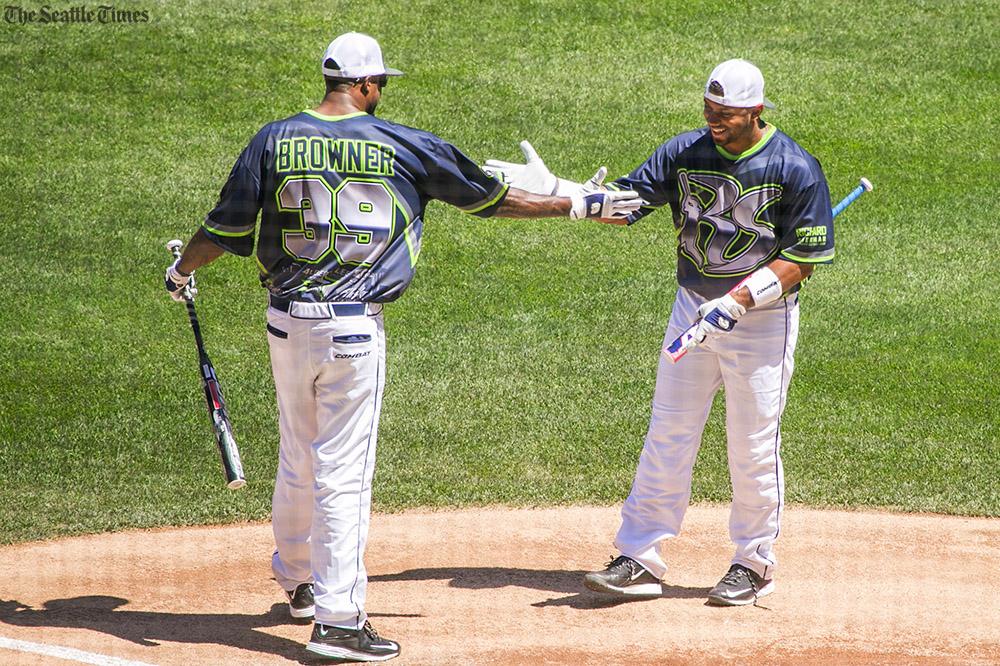 Kevin Durant getting lots of action in center field - caught 1, missed 1, caught 1, but looks hilarious
#
RS25Softball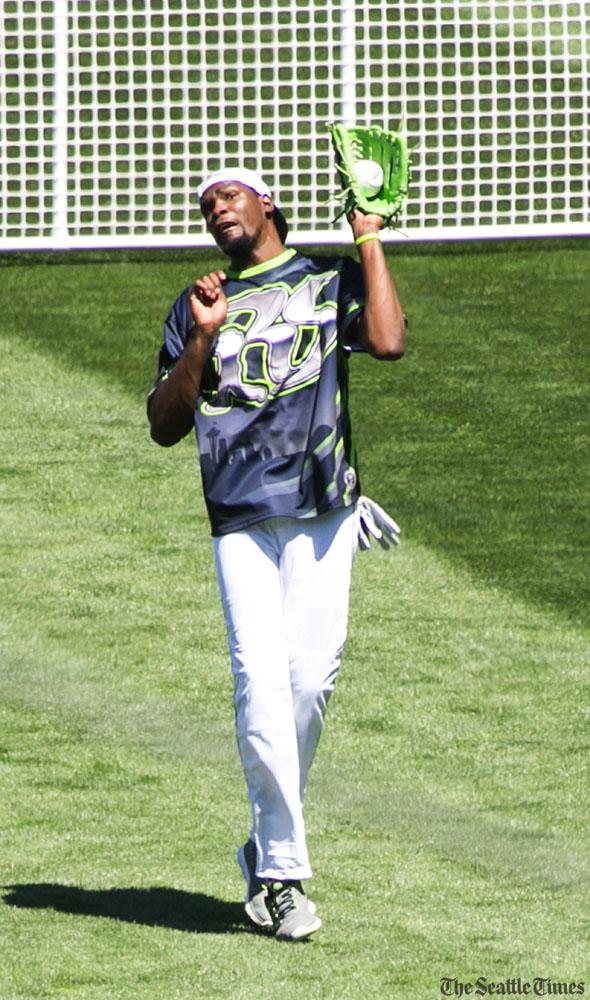 @DougBaldwinJr crashes @CharissaT's spot in front of the Blue team photo before #RS25Softball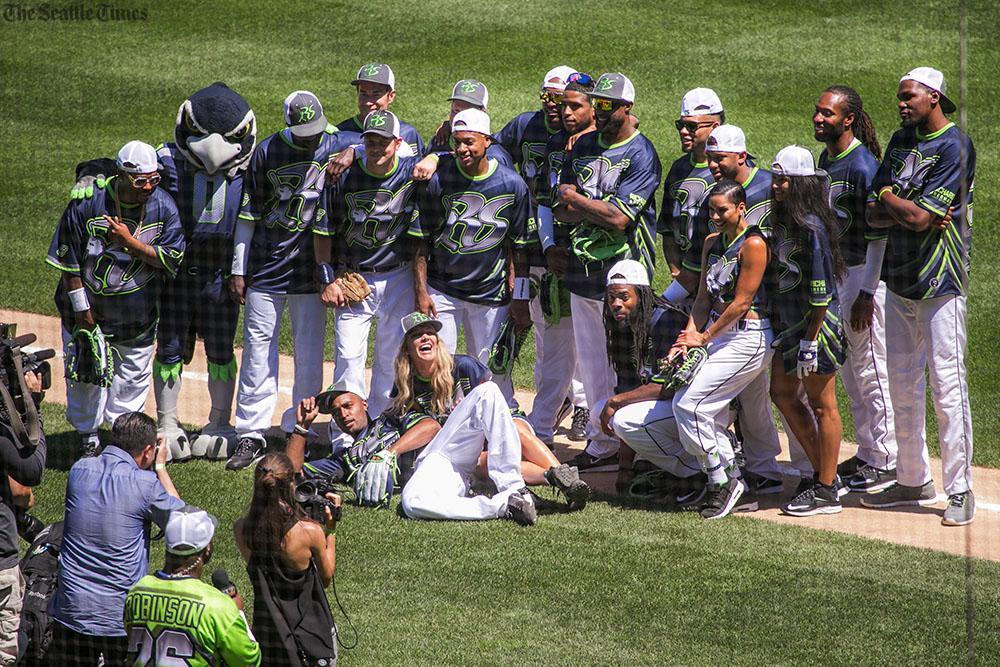 First pitch... @RSherman_25 HR
Still Stings
Standing ovation for Brett Favre

Robinson Cano smacks out 2 home runs in return to Yankee Stadium
FINAL: SEA 4, NYY 3
Robinson Cano hit two two-run homers to help Hisashi Iwakuma pick up his second win.
Robinson Cano hit two two-run homers to help Hisashi Iwakuma pick up his second win.
More »
Clint Dempsey goal getting the hat-trick. Up 6-0.
Sigi: "We're going to keep working. We're not going to stop working." #SEAvCOL
Sigi: "We've got to find our way out of this funk and obviously today we didn't."
Seattle Sounders FCVerified account @SoundersFC
Jose Bautista 1, sun 0.
Take a look at Russell Wilson's new limited edition Rangers baseball card
Super Bowl-bound Russell Wilson's past as a baseball player has been well documented in this corner of the internet, but now we can finally see what it might have looked like had he stuck with his MLB aspirations.
Topps recently announced plans to make a limited edition baseball card for the Seahawks QB, available in the prospect-centric Bowman series starting April 30.
Wilson was selected by the Rangers in the 2013 Rule 5 Draft, and while it's unlikely that he'll ever play Major League ball (the Rangers readily admit this), it's pretty cool to see him in that uniform.
#StrongAgainstCancer #MakeThemNotice @West2EastInc
Russell Wilson ✔ @DangeRussWilson
@RSherman_25 so happy for you bud!!! You are going to be an amazing dad! Love you bro! Let me make if u need me to babysit!

@RSherman_25

Seahawks coach Pete Carroll says he can't sleep because of Super Bowl's final play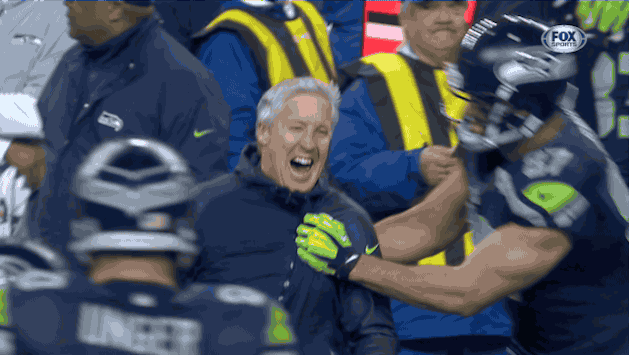 Seattle Seahawks head coach Pete Carroll isn't sleeping well these days. Carroll and his offensive coaching staff made the infamous decision to pass the ball from New England's 1-yard line in the final seconds of Super Bowl XLIX, resulting in Russell Wilson throwing a game-ending interception.
Since the historic contest, Carroll has been asked constantly about the play call. Carroll told Matt Lauer of the Today Show he believes in the decision both he and offensive coordinator Darrell Bevell made, but that hasn't given Carroll peace. The 63-year-old may never get over it completely, but for now he would settle for a good night of sleep:
While Carroll calls himself an optimist, he admitted to some sleepless nights in the aftermath of the Super Bowl. "I wake up and can't stop thinking about it,'' he said.

"The sleep part works because you're so worn out after the six months of the season that you can't help but fall asleep. But it's the waking up … and getting back to sleep [that] is the challenge."
Wilson was intercepted by Patriots cornerback Malcolm Butler on the play, when many were expecting Seattle to hand off to star running back Marshawn Lynch.
Carroll is one of three coaches to win both an NCAA championship and a Super Bowl, accomplishing the feat with the USC Trojans in 2003 and 2004, and the Seahawks in 2013. However, Carroll has also been on the short end of a few all-time games, including the 2006 Rose Bowl and Sunday's Super Bowl. The latter might sting worse, considering his play call is the source of controversy.
Still, Carroll defends the decision despite the finish:
"It's the worst result of a call ever,'' Carroll said. "The call would have been a great one if we'd caught it. It would have been just fine and nobody would have thought twice about it. We knew we were going to throw the ball one time in the sequence somewhere, and so we did, and it just didn't turn out right."
For Seattle, it will attempt to rebound from the setback with a third straight trip to the Super Bowl in the 2015-16 campaign. For Carroll, he is trying to move on. After the game, he found himself crying in the aftermath of the brutal loss.
"Just, lying in bed with [my wife] Glena,'' he said. "Like, in the middle of the night, you know? 4:05 in the a.m. That's what happened. That was my opportunity to go ahead and visit it."

... Edelman suffers possible concussion

This is not proper childcare technique.
half way through July 2015, Really!,...........

I have to tell you, I'm so medicated all the time, I might mess up "My Blog" once in awhile,..... Blurring eye'ed, I take 7 pill's in the morning, one pill 3 times a day & 3 more at night! yeah! I know!,......... Pain Sucks It's been a battle,..................... I'm hanging in there!
#StrongAgainstCancer #MakeThemNotice @West2EastInc RussellWilson3.com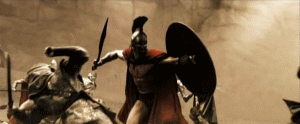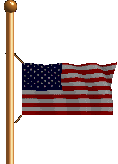 "Pray for the Troops, Pray for the World Always."

V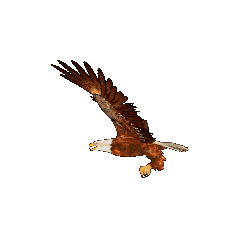 "We never really bury our dead, We take them with us, It's the prize of Living."
"They went not for Conquest and not for Gain, but Only to Protect the Anquished and Innocent."
"There is no honorable way to Kill, no gentle way to Destroy, There is nothing good in War, Except it's Ending."
"They that sow in tears shall reap in joy."
"And I said, Oh that I had wings like a dove, for then would I fly away and be at rest."
"And not only so, but we glory in tribulations also; knowing that tribulation worketh patience, and patience , experience, and experience hope."


👊😎 🏈



"Mama Sherman and The Legion of Super Fans"
Marshawn Lynch and Steven Hauschka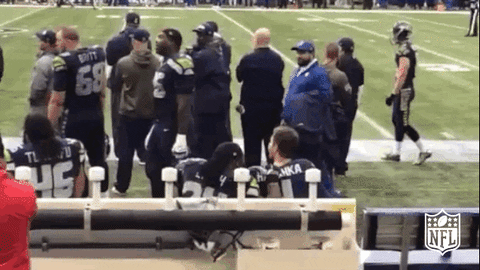 Tom Hanks demands a goal be reviewed on his imaginary phone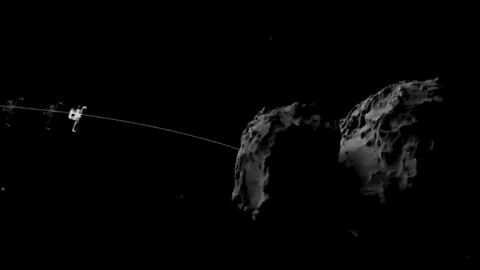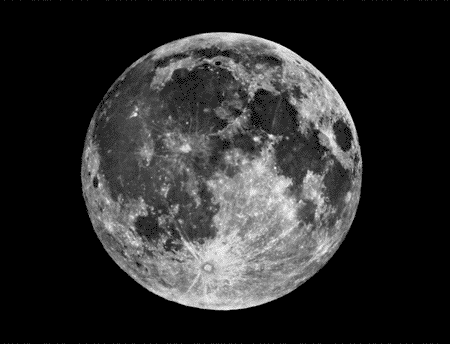 Michelle Beadle Got Hit in the Face with a Salmon, Courtesy of John Oliver
You'll never look at a salmon cannon the same way again. Thanks, John Oliver!
Richard Sherman Salutes Our Veterans
Campbell's Chunky Soup & Richard Sherman want to salute all the men and women in uniform who have served our country. Thank you for your service, we are donating $50,000 to the Wounded Warriors Project, USO and Pat Tillman Foundation in your honor.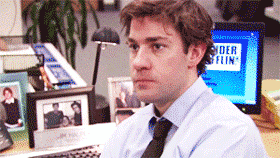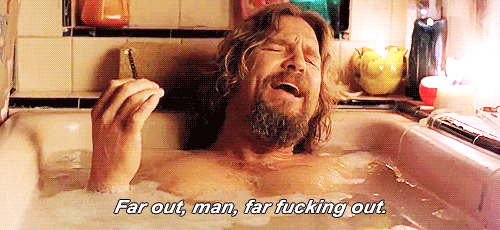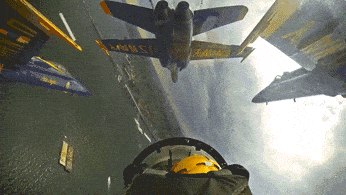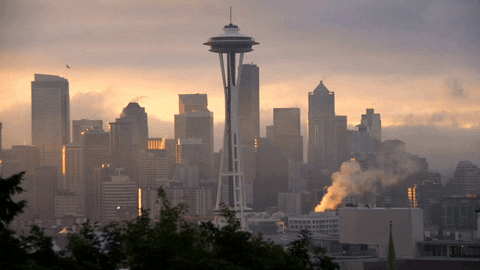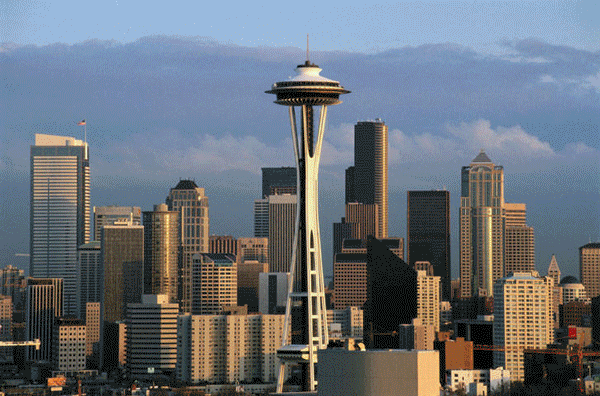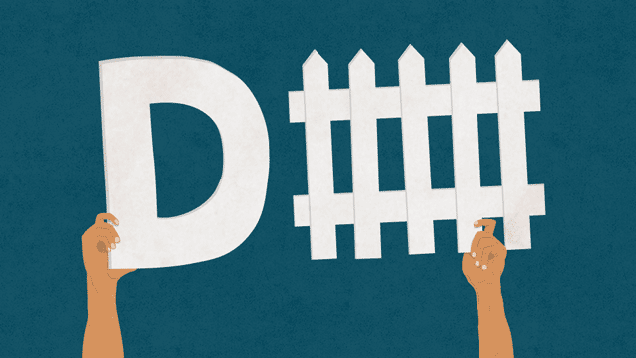 Time to get scared, it's Raider Week
| | | | | | |
| --- | --- | --- | --- | --- | --- |
| | | @ | | | | FOX uses 'Football as Football' Falcons-Lions Premier League logos for London game
Football as Football rendered all 32 NFL team logos in the style of English, German, Spanish, and Italian soccer logos, and FOX was savvy enough to reach out and feature the British Lions and Falcons logos for today's matchup between the two teams in London.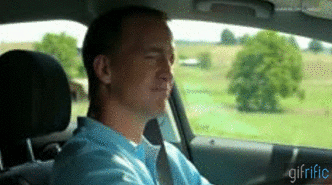 Peyton Manning
"I have no problem with our fans. Our fans are great. I've got a problem with our scoreboard operator," the Broncos' quarterback said. "I'm gonna have a little talk with him. I'm not sure what he's doing.
"He's playing music, showing players dancing and getting the crowd fired up when we had the ball. I don't think he should be doing that."
Peyton Manning does not tolerate imperfection. Sure, Denver was up by 14 at the end of the game, killing the clock. And sure, the scoreboard operator wanted to keep the crowd fired up.
But dammit, Peyton had a job to do, and that crowd was not making it easy. Oh, and don't be disrespectful and show Philip Rivers on the scoreboard while Manning is trying to end this game. So, yeah, Mr. Scoreboard Operator, it's going to be a long morning.




































Earl Thomas ✔ @Earl_Thomas
"It's tough on us right now. We're not playing disciplined ball like we want to, but we still had a chance to win the game," No. 29 said. "I stripped the ball and it was a big scuffle and I was just trying to help Sherm get the ball. He had it but somehow … I don't know."
"We gotta cut out on the penalties," Earl said after the game. "That's what's hurting us."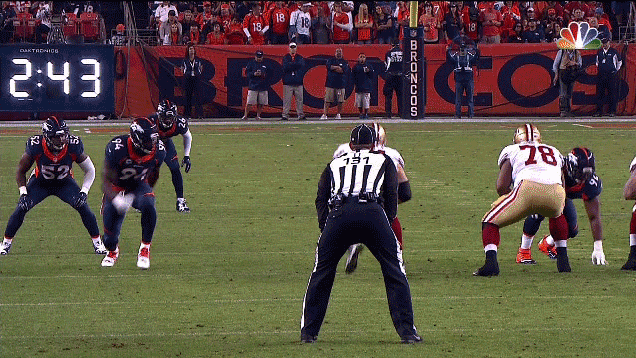 A.J. Pierzynski Flops so Hard Behind Home Plate
The White House ‏@WhiteHouse
See why the chances of a widespread #Ebola outbreak in the U.S. are extraordinarily low → http://wh.gov/ebola-response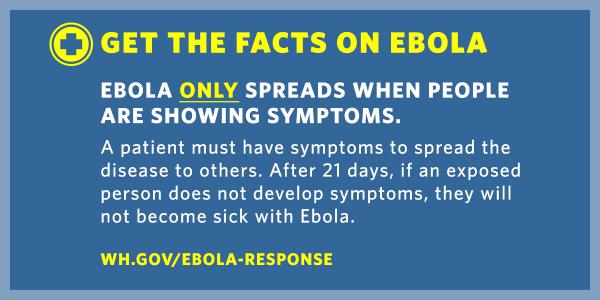 The military chapter of the official booster club of the Seattle Seahawks
Military Sea Hawkers @Mil_SeaHawkers
Copyright © 2011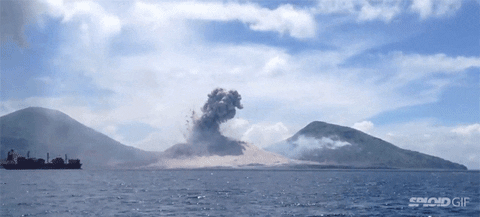 LeBron James and Michael Beasley